About Med Systems
About  the President:
Susan B. Davis took over the helm as President and CEO in 2009, having previously established herself as Vice President and Materials Manager of Med Systems for more than one decade. Under her tenure, Med Systems has expanded into new markets, and more than doubled the capacity of the company.
Susan brings over 30 years of experience in business including a distinguished, award winning career in interior design, product design and project management. She qualified Med Systems as a Woman Owned Company, obtained U.S. and international certifications and initiated university-led independent research on device effectiveness.
Among her many achievements is the design and development of the Self-Administrator, a strap that allows an  Electro Flo® 5000 user to easily apply CPT anywhere on their back.
If responses to Med Systems' products are any indication of the future, the outlook continues to look bright for the company. This solid footing is heartwarming to the company's president: "From healthcare professionals to individuals, you make me feel grateful everyday to be supplying life-affirming products. Thanks for sharing your inspiring stories. I'm deeply touched by your messages of hope and praise."
Jim Davis, Founder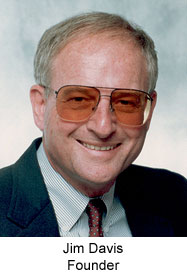 Med Systems Chief Engineer, Jim Davis designed life support systems for over fifty years. After graduating from M.I.T. in 1956, Jim entered the Air Force where his first project was the pilot oxygen breathing system in the X-15 rocket ship. After leaving the Air Force, Jim got his MBA from Stanford University. In the 1970's he was the chief engineer for Puritan Bennett Corp. While there, he directed the development of the MA-1 ventilator and oversaw the design and shipment of most of the world's ventilators at the time.
In 1976  Jim started Med Systems and introduced his patented anatomical anaesthesia mask.
Shortly thereafter, he developed and patented the Med Systems FLUID FLO pneumatic percussor. Since then, Med Systems has supplied over 18,000  FLUID FLO Percussors to hospitals and clinics.
Jim began developing digital electronics for the ELECTRO FLO Percussor in the late 1990's. Because of his creative thinking, patients now have a powerful airway clearance device that  may be used at home or away.
Our Team Founder Helped Create:
The X-15 Pressure Suit Breathing System
The Airline's "Little Yellow Mask"
The MA-1 Ventilator
The Puritan Bennett Product Line
The Med Systems Disposable Anatomical Masks
The Fluid Flo Pneumatic Percussor
The Electro Flo Electronic Percussor
Over 50 Years of Engineering Products for Life