← Older posts
Med Systems will be exhibiting at this years ATS International 2018 Conference. The conference will be held in San Diego, CA. May 18-May 23. Registration is now open American Thoracic Society
Med Systems is sponsoring a Phase IV clinical study to measure the effectiveness of the Electro Flo 5000 Airway Clearance System for people who have been diagnosed with cystic fibrosis. The goal of the study is to provide health insurers and Medicare with comprehensive information regarding the system's performance. The study is designed to measure the efficacy of the system, which includes the FDA510K (K031876) device under current indications. The study will last 30 days and involve using the system for lung clearance and recording the results in a digital journal. The study should take about 10 minutes per day to record measured results in the morning after waking. You will also be asked to use a spirometer and a digital pulse oximeter to evaluate your lung function after using the Electro Flo 5000 Airway Clearance System.
Interested participants must be: 
-Between the ages of 18-55 years of age 
-Diagnosed with Cystic Fibrosis 
-Prescribed chest physical therapy for airway clearance 
-Able to perform self-treatment- having manual dexterity 
-Residing in the United States
Contact- Dr. Leigh Mack: CFtrial@mackbio.com or Phone 888-9358676 ext. 706
Med Systems will be participating and exhibiting at the CSRC 49th Annual Convention at Harrah's Resort in Valley Center, CA.  Dates are June 13th-15th.  Please visit our booth to try the Electro Flo 5000 Airway Clearance System.  Eligible participants may register at the CSRC website.  www.csrc.com.
Med Systems will be participating and Exhibiting at the Children's of Alabama and University of Alabama Cystic Fibrosis Center Education Day.   This event will take place on April 21, 2017 from 8:00AM- 4:30PM at the Bradley Lecture Center. Located on the 4th floor of the Children's Harbor Building.  We will have the Electro Flo® 5000 available for demonstration including literature on our airway clearance devices.
From more information about this event visit COA CF Clinic website https://www.childrensal.org/cystic-fibrosis
Med Systems will be participating and exhibiting at the ACT (Airway Clearance Technique) Family Information event at Children's Hospital of Los Angeles.    This event will take place on November 8th from 4-7PM PST.
This event has been cancelled and postponed for an undetermined future date.
The Electro Flo® 5000 Brochure is now available for download in PDF format. Available now in English and French/Canadian under the Electro Flo® 5000 and Self-Administrator® product page.
Coughing to clear the lungs of congestion is fundamental for patients with obstructive lung disorders, neuromuscular diseases and restrictive airway disorders. Such coughs are associated with COPD, bronchitis, viral and bacterial types of pneumonia, cystic fibrosis, occupational lung disease and many other respiratory conditions. If left untreated, the buildup of mucus can lead to serious infections. So what is coughing and how can the hand-held Electro Flo 5000 Airway Clearance System ensure that patients get the specific relief they seek?
There are two types of coughing, dry and productive. Dry coughing usually doesn't produce phlegm. Productive coughing results when the body seeks to clear the build-up of sputum to clear the airways and improve breathing.
Coughing is the forceful expulsion of air from the lungs that can reach an estimated at 100 miles per hour.  The National Institutes of Health describes the process of coughing accordingly:
In order for a cough to occur, several events need to take place in sequence. First, the vocal cords open widely, allowing additional air to pass through into the lungs. Then the epiglottis closes off the windpipe (larynx), and simultaneously, the abdominal and rib muscles contract, increasing the pressure behind the epiglottis. With the increased pressure, the air is forcefully expelled, and creates a rushing sound as it moves very quickly past the vocal cords. The rushing air dislodges the irritant, making it possible to breathe comfortably again.
Source:  "Coughing" www.nlm.nih.gov
In order to induce productive coughing, patients may use percussion. This will loosen the mucus and stimulate coughing to move it up and out. Percussion can be applied using repeated, steady clapping motions with a cupped hand over the lungs. See the diagram of the respiratory system.  Each area is treated for 3 to 5 minutes before moving to another section, allowing time in between for the patient to breath deeply and cough for a minute or two in between.  Treatments may last 20 to 40 minutes and may be repeated several times a day.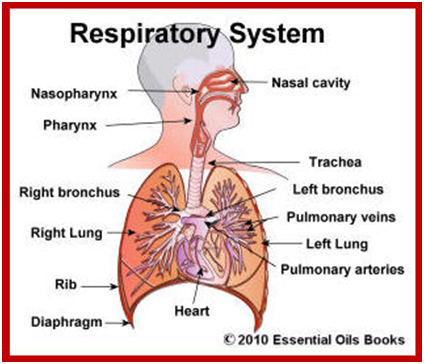 Source: www.everythingessential.me/HealthConcerns/cough.html#page=page-1
Clearly, hand percussion can be tiring. If applied by a health professional, the repetitive action can result in carpal tunnel syndrome.1 When a family member or the patient applies manual percussion at home, the demands can lead to poor compliance. The disadvantages of hand percussion are mitigated by the Electro Flo 5000 Airway Clearance System that tirelessly mimics hand percussion while allowing the patient to easily and quickly apply treatments on themselves at their convenience.
The Electro Flo 5000 Airway Clearance System delivers force multiplied percussion with 30 customizable settings ranging from light gentle tapping to a deep jackhammer force. With its Self-Administrator, individual lobes of the lungs may be precisely targeted for clearance. The coughing that results from a treatment using the Electro Flo System can effectively remove trapped pathogens in a person's airways naturally without the side effects of pharmaceuticals. Contact Med Systems today to schedule your free 30 day trial and experience the improvement in your lung function.
---
1 Clinkscale, Spihlman K, Watts P, Rosenbluth D Kollef MH, "A randomized trial of conventional chest physical therapy versus high frequency chest wall compressions in intubated and non-intubated adults," Respir Care, 2012 Feb; 57(2): 221-8. Doi: 10.4187/respcare.01299. Epub 2011, Jul 12.
TREATMENT FOR NEUROMUSCULAR DISEASE
Neuromuscular diseases are rare conditions affecting the nerves that control voluntary or involuntary muscles. This group of diseases may be genetic and present at birth or acquired later in life.  Most treatments for neuromuscular disease are aimed at minimizing the symptoms and improving a person's quality of life rather than seeking a cure. Neuromuscular disease includes among others, MUSCULAR DYSTROPHY, MYASTHENIA GRAVIS, and AMYOTROPHIC LATERAL SCLEROSIS also known as ALS or Lou Gehrig's disease. Neuromuscular disease includes a broad spectrum of illnesses that may require treatment for relief in breathing.
 As one illustration, MUSCULAR DYSTROPHY consists of a more than 30 genetic diseases that lead to weakness and degeneration of skeletal muscles that control movement. In these instances, neuromuscular disease therapy is directed to the part of the body most affected. Breathing symptoms of muscular dystrophy patients may be relieved by exercise, physical therapy and respiratory care including airway clearance techniques that involve deep breathing and coughing.
  In the case of MYASTHENIA GRAVIS, involuntary muscles are characteristically weak, usually during activity. Treating this particular neuromuscular disease is also aimed at relieving respiratory problems since the muscles that control swallowing and breathing are affected. Respiratory therapy may become very important to aid in treatment.
 ALS is characterized by progressive degeneration of nerve cells in the spinal cord and brain, which leads to difficulty in swallowing.  As the disease progresses, respiratory care may be part of ALS therapy.
 In each of these instances, lung clearance can be important therapy. The Med Systems Fluid Flo® 2500 pneumatic percussor and Electro Flo® 5000 airway clearance device provide superior lung clearance for neuromuscular disease treatments. The Fluid Flo® 2500 series percussor is a workhorse for hospitals across America since 1982, while the mobile Electro Flo® 5000 airway clearance device provides a more convenient way for individuals to treat neuromuscular disease at home or away.
 For more information about neuromuscular disease, see the Muscular Dystrophy Association's website at www.mda.org, as well as the Myasthenia Gravis Foundation of America at www.myasthenia.org, and the ALS Association at www.alsa.org.
BRONCHIECTASIS
Bronchiectasis is a disease that causes the airways or bronchial tubes of the lungs to widen and become flabby.  It is caused by infections or other conditions that destroy the smooth muscles surrounding the bronchial tubes and prevents the airways from clearing mucus. The goal of treatment for bronchiectasis is to control the secretions and prevent infections.
Congenital bronchiectasis is linked to genetic defects that may occur with such conditions as cystic fibrosis. If the disease occurs later in life, it is referred to as acquired bronchiectasis. In the most severe cases, bronchiectasis may result in respiratory failure.
In normal lungs, mucus is created to remove dust, bacteria and small particles from the lungs that are expelled by coughing. With bronchiectasis, the airways lose their ability to clear out mucus, causing recurring inflammation or infection of the airways.
The following illustration shows healthy airways compared to those with bronchiectasis.
Bronchiectasis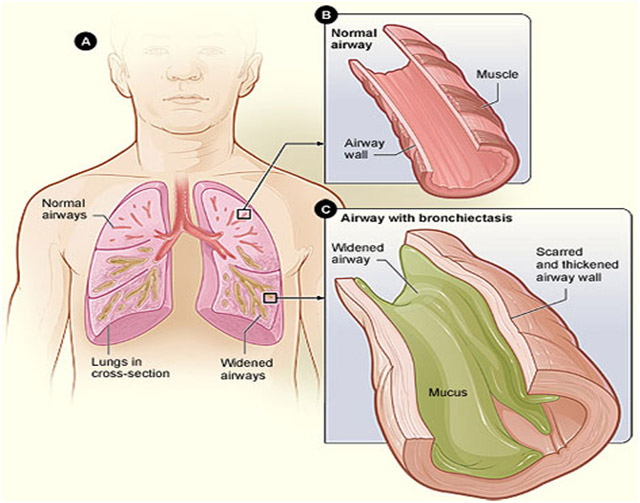 Figure A shows a cross-section of the lungs with normal airways and widened airways. Figure B shows a cross-section of a normal airway. Figure C shows a cross-section of an airway with bronchiectasis.
Source: National Heart, Lung, and Blood Institute, "What is Bronchiectasis?" www.nhlbi.nih.gov/health/health-topics/brn/
Another source for learning about Bronchiectasis is on the American Lung Association website: www.lung.org/lung-disease/bronchiectasis/understanding-bronchiectasis.html
Symptoms of bronchiectasis include: a chronic cough; a cough that worsens when lying down; fatigue, shortness of breath that worsens with exercise; and wheezing. These bronchiectasis symptoms may develop gradually and become evident months or even years after the causal event. The primary treatments for bronchiectasis are medications, such as antibiotics or use of inhaled steroids, and chest physiotherapy
Chest physiotherapy used to treat bronchiectasis can be performed manually or with an airway clearance device and is often combined with postural drainage. Postural drainage uses gravity to move the congestion from the lungs up to the throat.
Research has shown that congestion is loosened when a consistent clapping force is applied to the chest. Tests have confirmed that Med Systems' Electro Flo® 5000 Airway Clearance System with Force Multiplying Technology provides significantly more pulse force than other products to dislodge trapped mucus. In addition, the Electro Flo® 5000 has 30 power and speed settings to provide customized treatments.
Med Systems and its employees are dedicated to providing superior products and service to help patients with bronchiectasis find the relief they seek.
RESPIRATORY CARE Choices for Cystic Fibrosis Patients and Respiratory Therapists
Cystic Fibrosis is characterized by thickened mucus, chronic infection and inflammation of the airways.  Patients with this disease engage in daily respiratory therapy. Effective respiratory care can vary widely, depending on the needs of the individual.
Among the therapies available are:
Chest physiotherapy – the standard for airway clearance
Active cycle breathing using huffing
Autogenic drainage involving breathing in different lung volumes
Positive Expiratory Pressure (PEP) consisting of either low pressure PEP, high pressure PEP, or oscillating PEP
Intrapulmonary Percussive Ventilation providing continuous oscillating pressures during both inhalation and exhalation
High-Frequency Chest Compression that provides oscillation to the external chest
Exercise as supplemental to other forms of treatment
Determining the best course of action is a function of many variables with age being one.  As a point of illustration, Table 1 suggests the most appropriate type of airway clearance by age.
Table 1: Airway Clearance Techniques by Age Group
Technique
0-3
Years

3-9
Years

>9
Years
Chest physiotherapy
Yes
Yes
Yes
Active cycle of breathing
No
Yes
Yes
Autogenic drainage
No
No
Yes
Positive expiratory pressure (PEP)
No
Yes
Yes
Oscillating PEP (Flutter or Acapella)
No
Yes
Yes
Intrapulmonary percussive ventilation
No
No
Yes
High-frequency chest compression (The Vest)
No
Yes
Yes
Exercise
Yes
Yes
Yes
Source:  Jeffrey S. Wagner MD and Aree A Headley RRT,  "Cystic Fibrosis: Current Trends in Respiratory Care," Respiratory Care March 2003 Vol 48 No 3 p.240 Table 2.
Those involved in determining which therapy to use are the primary doctor, the respiratory therapist, and the patient.  The respiratory therapist is a key figure because they communicate with the doctor and the patient, including the decision as to which therapy to use. The pivotal role of the respiratory therapist is captured in the following video of the American Association for Respiratory Care.
The interests of the respiratory therapist are illustrated in the use of chest physiotherapy (CPT).  With CPT, pressure is applied to the thorax from clapping, vibration or compression and is combined with postural drainage in order to dislodge mucus and move it out of the airways. CPT is repeated over different parts of the chest until each area of the lung is cleared.  The repetitive action is of concern to respiratory therapists since it could lead to carpal tunnel syndrome.¹
Although respiratory therapists have the option of using mechanical devices to minimize the strain on their body, they are advised that: "Mechanical devices…do not always clear the airways better than manual techniques."²  In fact, this is true for all forms of airway clearance techniques.  A nationwide Cystic Fibrosis Foundation committee established to examine the clinical evidence for different therapies and provide guidance on their use concluded: "There are no ACTs [airway clearance therapies] demonstrated to be superior to others, so the prescription of ACTs should be individualized."³
Mechanical devices used in CPT not only provide relief for respiratory therapists, but may allow patients to perform CPT on themselves. The Electro Flo® 5000 Airway Clearance System with the Self-Administrator® strap allows patients to easily direct CPT to their back as well as front and sides. Furthermore, with its 30 targeted settings, the range of Electro Flo's power and speed far exceed all other products. These important considerations may make a difference in patient preferences and clinical outcomes.
---
¹ Clinkscale, Spihlman K, Watts P, Rosenbluth D Kollef MH, "A randomized trial of conventional chest physical therapy versus high frequency chest wall compressions in intubated and non-intubated adults," Respir Care, 2012 Feb; 57(2):221-8. Doi: 10.4187/respcare.01299. Epub 2011, Jul 12.
² Wagner, et al, op. cit, p.240 in reference to Bauer MI., McDougal J, Schoumacher RA, "Comparison of manual and mechanical chest percussion in hospitalized patients with cystic fibrosis," Journal of Pediatrics 1994:12(2): 250-254.
³ Flume PA, Robinson KA, O'Sullivan BP, Finder JD, Vender RL, Willey-Courand DB, White TB, Marshall BC and the Clinical Practice Guidelines for Pulmonary Therapies Committee, "Cystic Fibrosis Pulmonary Guidelines: Airway Clearance Therapies," Respiratory Care, 2009, Apr; 54(4): 522-37.
← Older posts