Myasthenia-Gravis Therapy
Treatment for Myasthenia-Gravis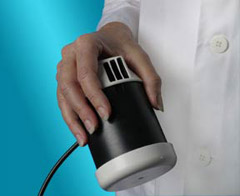 Vibration and massage are side benefits of all vests and percussors. But to achieve superior lung clearance, only strong 'karate-chops' that mimic hand CPT supply the action most patients require to loosen and dislodge bronchial secretions trapped in the lungs. Here's what makes the Electro Flo® 5000 Airway Clearance System different from vibrators, massagers, flutter devices and vests as treatment for Myasthenia-Gravis.
The Electro Flo® 5000's patented technology breaks up congestion. It's advanced electronics provide 30 setting options, from light high frequency tapping through to major impact. Due to its unique design, the depth of pulse penetration received is much greater than the force applied, making it less tiring and easier to administer than hand CPT. Experienced respiratory professionals say "WOW" as soon as they try it.
The positive effects continue long after treatment has stopped. Since the resultant coughing is a natural benefit the body produces to assist in positive airway clearance, relief is felt immediately. This powerful, light-weight and travel-friendly portable airway clearance device may be self administered to treat Myasthenia-Gravis.
The Electro Flo® 5000 with Force-Multiplying Technology is engineered for institutional and home use and has a 3 year parts and labor warranty. It is FDA Registered, ETL certified and manufactured in the USA.
Reducing the number of lung infections, patient hospitalizations and thus medical bills is our number one goal.
The cost of an Electro Flo® 5000 pays for itself when weighed against just one visit to the emergency room or a night in the ICU. But don't take our word for it. Compare it to any other manufacturer's lung clearance device and judge for yourself. Check with the physicians, respiratory therapists and patients who use Med Systems' products. In business since 1976, we are renowned for our product reliability and customer service. Please contact us to request a free 30 day trial of the Electro Flo® 5000 as an effective therapy for Myasthenia-Gravis.